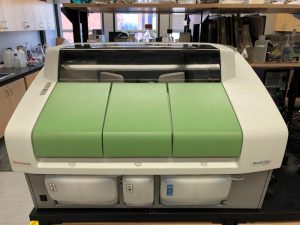 Capable of performing a variety of colorimetric analyses, including NH4-N, NO2-N, NO3+NO2-N, PO4-P, and Cl-, as well as Total Kjeldahl Nitrogen (TKN) and Total Phosphorous (TP).
Analyses supported: NH4-N, NO3-N, NO3/NO2, PO4-P, Cl-, TKN, TP. Others available, please inquire.
Samples accepted: Water samples, aqueous extracts (e.g., soil extracts), acid digests (for TKN or TP)
Typical concentration range: Varies depending on method. Please inquire with the lab for detection limits specific to your method.